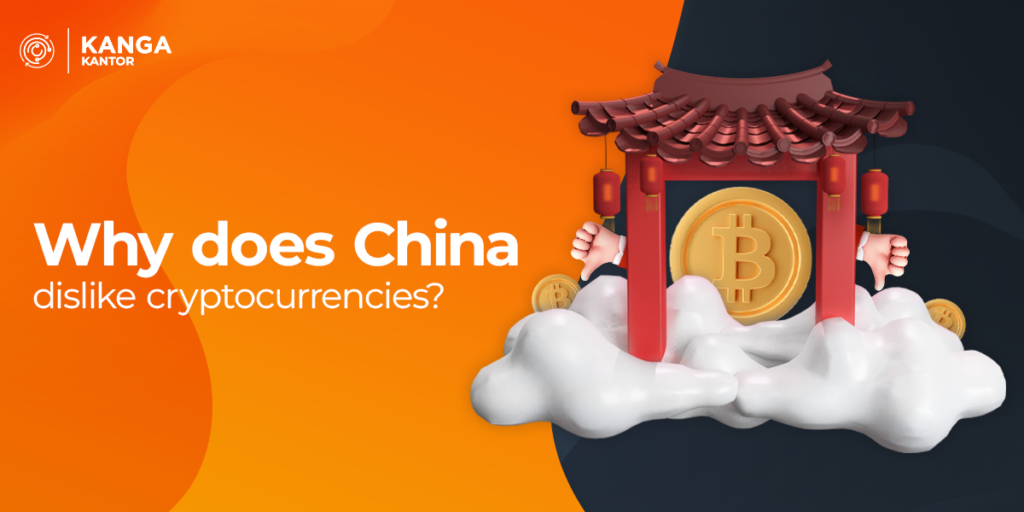 Although the cryptocurrency market is thriving around the world, not all countries are ready to accept it. Recently, China has been trying to restrict digital assets as much as possible. The authorities are primarily focusing on blocking the domestic market for digital assets by banning the mining of cryptocurrencies. At the same time, they are ordering major banks not to cooperate with cryptocurrency companies.
China appears to be moving not just to restrict, but to eliminate cryptocurrency-based transactions from its domestic market altogether. According to the rhetoric of Chinese authorities, digital currencies such as bitcoin and ethereum are not legal and cannot be used as a safe means of payment. They are considered to have no sanctioned legal status, and they rely on technology that encrypts data, which China cannot accept.
Cryptocurrencies in China – reasons for fighting digital currencies in the People's Republic of China
It was first reported in 2021 that the People's Bank of China had banned all cryptocurrency transactions. At the time, the role of cryptocurrencies in facilitating financial crimes was cited, as well as posing increasing risks to the Chinese financial system due to their speculative nature. However, one of the most likely reasons for the cryptocurrency ban is the fear of capital flight from China.
It's worth mentioning that transactions involving cryptocurrencies in China have begun to increase in recent months, despite the ban imposed last September. So the restrictions imposed by the authorities, have been largely bypassed by determined users.
The opinion that the attack on the cryptocurrency market was the result of an image campaign by the Chinese authorities was also very popular. In this way, they wanted to perpetuate their image as a guardian who protects its people and tries to warn them against cryptocurrency fraud. It is worth mentioning here that the first attempt to eliminate digital assets from the Chinese market, took place in 2017 before the anniversary of the founding of the People's Republic of China.
China and cryptocurrencies – why is the government there afraid of them?
Why is China outlawing cryptocurrencies? Digital assets and cryptocurrency exchanges in some ways represent privacy and freedom, values that run counter to China's idea of control. To date, they have been popular because they have made it easy for Chinese residents to acquire foreign assets that are outside the control of Chinese authorities. Given the decentralized nature of bitcoin or other blockchain-based cryptocurrencies, they can be used to circumvent capital controls much more easily than the conventional currency exchange that the banking system uses.
Cryptocurrencies therefore seem to undermine the specific goals of the Chinese state. Chief among these is the control of capital inflows and outflows, which can be considered a necessary part of the Chinese economy. Cryptocurrencies were considered likely to disrupt this flow because they offer an alternative to currency controlled by monetary and political authorities. They are not covered by strict restrictions on the amount of foreign capital that can be exchanged in a year.
As the popularity of cryptocurrencies grew, so did concerns over financial stability. In turn, digital currencies have been identified as one potential source of instability that disrupts China's economic order. In addition, authorities are concerned that cryptocurrencies have become interesting retail investment options for Chinese investors. This runs counter to the authorities' struggle to keep capital within the country's borders.
China outlaws cryptocurrencies, but introduces digital yuan
The fact that cryptocurrencies are strong competitors to the digital Yuan can also be considered as one of the reasons for fighting cryptocurrencies. The People's Bank of China is trying to popularize the view that the introduction of a state-owned digital currency is safer than cryptocurrencies, which are not controlled by the authorities. Paradoxically, in constructing the e-juan system, China was heavily inspired by the technology on which digital assets are based.
The People's Bank of China is trying hard to promote its currency. It recently announced that the digital yuan, also known as e-CNY, has reached 100 billion yuan in transactions since August 31. It is being piloted in 23 cities in mainland China and is expected to expand to more provinces in the coming months. China is getting closer to introducing e-Juan on a mass scale. Several hundred thousand citizens already have dedicated digital currency wallets, and the number is growing steadily.
Is security the main goal of introducing e-Juan? It seems to be primarily about control and creating a layer of rich financial data. It's hard to resist the impression that the digital yuan is destined to become an excellent surveillance tool, allowing all transactions to be tracked. Hence, cryptocurrencies in China are most likely to have such a situation, and not a different one.
Thank you for reading the article! We encourage you to visit our Kantor blog regularly for the latest news from the world of cryptocurrencies!
Latest articles