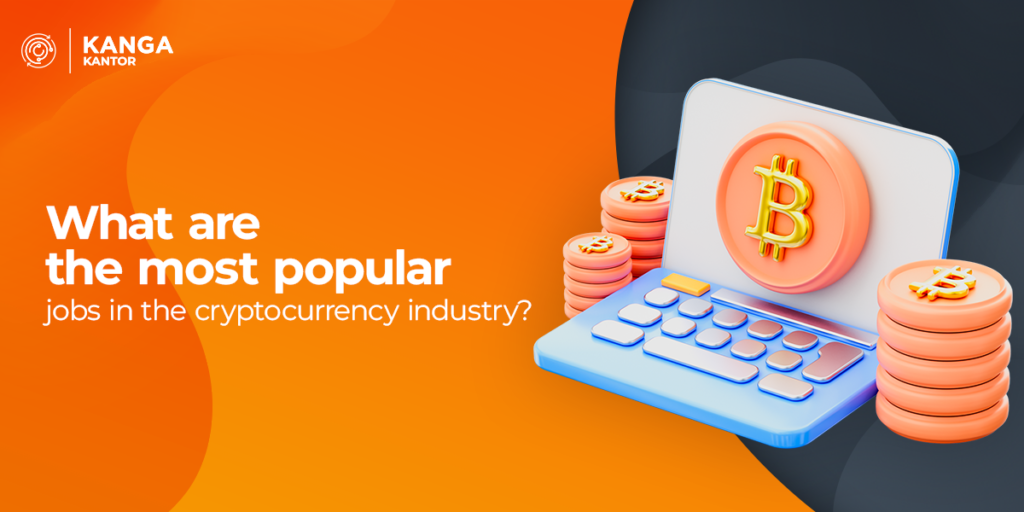 The labor market is constantly changing and requires us to be flexible. Many people are reorganizing, acquiring new competencies and trying to adapt to the prevailing realities. These changes are triggered, among other things, by the emergence of modern technologies, such as blockchain, which is finding more and more applications every year and entering more spheres of our lives. The growing demand for blockchain products and services is also contributing to the demand for specialists. As a result, previously non-existent professions are being created, thereby increasing the number of jobs.
The popularity of cryptocurrencies has been growing steadily for more than a decade. While they used to seem like something abstract, today they are becoming an everyday reality. Many people believe that digital currencies are the future of the financial world and tie their professional future to them. Is it right? It seems obvious that with the growth of the cryptocurrency market and exchanges, the demand for new employees is also increasing rapidly. It is forecast that in the next few years, people who specialize in creating and marketing cryptocurrencies will be in demand on the job market. That's why it's worth checking out what career paths this industry offers and how to make money from cryptocurrencies!
Cryptocurrency jobs – Blockchain developer
Blockchain developers are involved in creating and optimizing systems that rely on blockchain technology. Taking such a position requires not only knowledge of programming languages, but also knowledge of cryptography. Blockchain developer should also have such skills as analytical thinking ability, accuracy, and English language skills.
Is it worth becoming a blockchain developer? As is already known, blockchain is a relatively new and rapidly developing technology, the number of projects related to it is growing rapidly, so the demand for blockchain developers is increasing. It seems that compared to other professions, there are relatively few specialists in this field, so they automatically become valued in the labor market. The main benefit of this situation is the possibility of earning really high salaries. This is by far the most well-known job in the cryptocurrency industry.
Cryptocurrency jobs – Blockchain artificial intelligence engineer
This position can also be referred to as a machine learning engineer. The main tasks of engineers who focus on this field include implementing and optimizing solutions based on artificial intelligence. An important aspect of their work is controlling the flow of data, as well as developing and programming algorithms to support cyber security. In the cryptocurrency industry, their work is particularly important when it comes to technical analysis of the market.
Specialists in this field should have knowledge of programming languages, artificial intelligence, computer science, robotics, or statistics. Knowledge of blockchain technology and the cryptocurrency market is also important. As with blockchain developer, this career direction is also considered very lucrative.
Cryptocurrency jobs – Compliance Specialist
Experts in this field ensure that the institution where they work operates in accordance with current legislation. They definitely contribute to increasing the confidence of customers and contractors with regard to a particular company. Taking up this position requires a very good understanding of the current regulations for a particular industry. 
The rapid development of the cryptocurrency market has created a demand for compliance specialists. They are primarily engaged in examining the compliance of cryptocurrency transactions with a range of international, national and company regulations. In candidates for this position, special attention is paid to experience in financial institutions. Knowledge of anti-money laundering regulations is also important.
Cryptocurrency jobs – Security Architect
In cyberspace, security is one of the key issues, especially when it comes to financial matters. In the case of digital assets, a huge security feature is their combination with blockchain technology. This security makes them difficult to hack unlike other well-known payment systems.
Therefore, there is certainly no shortage of jobs for cybersecurity specialists in the cryptocurrency industry. Their main task is to develop solutions that will provide security against unwanted transactions or other external threats. 
Cryptocurrency jobs – Cryptocurrency investment advisor
A financial advisor is also considered one of the professions of the future when it comes to working in the cryptocurrency industry. Why? These days, it's hard not to notice that more and more regulations are emerging that deal with digital assets. It is predicted that they may begin to play an increasingly important role in the financial world in the coming years. Certainly, many people interested in cryptocurrencies are wondering whether they have a future and whether it is worth investing in them? A natural consequence of these developments will be a greater need for investment advisors who can demonstrate extensive knowledge of cryptocurrencies. Due to the fact that digital assets are relatively new, not every advisor has detailed knowledge of this market. 
Other jobs in the cryptocurrency industry
It should be noted that the list presented here is not exhaustive. This is because there are many other professions not associated with the cryptocurrency market, but are nevertheless related to it. Certainly, there is a great demand for all kinds of IT specialists and experts involved in data collection, processing and analysis. We can distinguish such professions as, web developer, data scientist and big data engineer.
The cryptocurrency industry is also open to marketing professionals, such as a product manager or marketing manager. Their main responsibilities include creating marketing strategies and launching products related to blockchain technology and cryptocurrencies.
So, how to make money from cryptocurrencies, besides engaging in exchange activities? As you can see, there are plenty of professions to make digital currencies our source of income!
Thank you for reading the article! We encourage you to visit our Kantor blog regularly for the latest news from the world of cryptocurrencies!