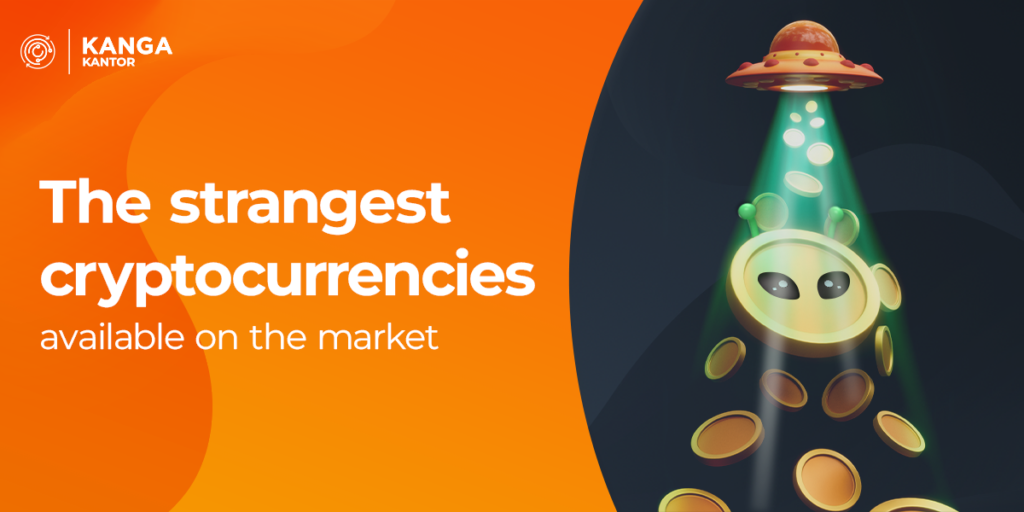 It can be confidently stated that cryptocurrencies characterized by large market capitalization, such as bitcoin or ethereum, are the most notable in the wider media. But what about those currencies that, instead of tangible utility, offer absurdity (not to be confused with stupidity) and the feeling of interacting with an obvious joke? Let's give them justice! Therefore, in this article we will present the strangest digital currencies available on the market.
Listing them is a breakneck task, since the CoinMarketCap website informs us that there are more than 1,500 active cryptocurrencies. No worries, we have meticulously looked at the more grotesque ones so that you don't have to! Who knows, maybe some of our readers will treat them as cheap cryptocurrencies with potential?
Garlicoin, an appetizing altcoin
The Reddit community is able to promote little-known cryptocurrencies to the point that they become a kind of phenomenon. Especially when it comes to memecoin. This was the case with dogecoin (which is deliberately not included in this list, because at some point it stopped being "merely" an Internet joke and became, for lack of better words, a serious matter on the market value side), and a similar situation is happening with garlicoin – a dream come true for people waiting for someone to finally combine their two favorite things, namely cryptocurrencies and garlic bread.
Garlicoin uses Litecoin (LTC) technology. According to its creators, it offers cheap and fast transactions, a low barrier to entry and a full focus on the community aggregated around it. However, in our opinion, its essence is contained in the following sentence found on garlicoin's dedicated website: "Garlicoin is hot out of the oven and ready to serve you with its buttery goodness."
Useless Ethereum Token – the first "honest" altcoin on the market
It is a common phenomenon in any industry to be inspired by the achievements of the biggest players and try to reinterpret them in your own fashion. It is no different with the world of crypto and ethereum being a source of inspiration for more people who want to enter the market with their digital currency. With some of these projects being part of an ICO (Initial Coin Offering) – a crowdfunding method of raising capital by startups through dedicated cryptocurrencies.
What is the dark side of such solutions? ICOs can be blown up for weeks/months, and once they are launched, the Ethereum network is overloaded for a minimum of several days. What's worse, these are not isolated, heavily timed situations. Few cryptocurrencies manage to achieve real success, and the accumulation of lousy digital currencies only adds to the frustration of ordinary users.
One of them, tired of Initial Coin Offering, decided to use his disapproval in an interesting way. For he has created the Useless Ethereum Token, which he describes as "the world's first 100% honest Ethereum ICO." What benefits does it offer people who decide to invest in this project? First and foremost, transparency, as this venture is implicitly not supposed to have any value. Zero earnings prospect equals a small number of investors clogging up the network. That's what is valued!
Cthulhu Offerings – altcoin for Lovecraft fans
A firm favorite of the author of this text. To begin with a bit of context for those unfamiliar with H.P. Lovecraft's writing: the term Cthulhu refers to both the mythology he created under the same name and one of the prominent beings in this universe, belonging to the ranks of the Great Eternals. We are talking about powerful entities that influence the dreams and minds of people. Cthulhu himself is a giant sea monster from another dimension that sleeps at the bottom of the Pacific Ocean, waiting to be released by his followers.
With that said, this particular cryptocurrency, based on the Quark blockchain, did not secure its place on this list solely for reasons of inspiration. The thing revolves around its utility.
Well, the creators of Cthulhu Offerings have gone a step further and their token allows you to take part in a kind of game. For this one is treated as an "offering" to the Eternal himself, so that he awakens from his sleep. In other words, investors are treated as cultists. Sic!
We have by no means exhausted the topic when it comes to the strangest digital currencies. New cryptocurrencies regularly appear on cryptocurrency exchanges, so if specific cases particularly catch our attention, we won't fail to mention it!
Thank you for reading the article! We encourage you to visit our Kantor blog regularly for the latest news from the world of cryptocurrencies!