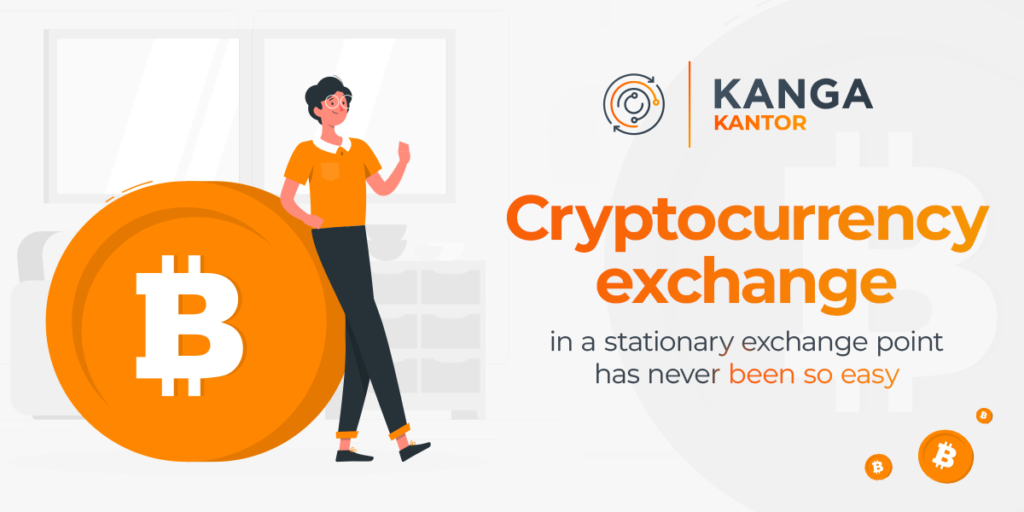 Digitization of the economy, i.e. the transfer to the digital reality of the processes taking place in the real world, already covers practically all areas of economic life. Meanwhile, there are also reverse examples, for example from the world of advanced digital solutions, such as cryptocurrencies. There we are dealing more and more often with services that end up in the economy of physically available goods and services.
Increasingly, we can also meet physically existing cryptocurrency exchange offices that allow transactions while shopping or services in a shopping center. Kanga Exchange stationary exchange offices operate as a partnership structure of branches, which are combined into one system by means of internet communication with the Kanga Exchange.
The rapid development of the market, the success of bitcoin and many other cryptocurrencies, and the enormous opportunities offered by innovative technologies related to this market have also resulted in the emergence of physical exchange offices, similar to those trading in fiat money (issued by banks).
Kanga Exchange provides access to the cryptocurrency market for investors from larger and smaller towns who prefer to buy cryptocurrencies in a physically accessible facility, rather than online transactions. A big advantage is the ability to discuss transactions with the operator on site and obtain valuable information about rates and trends.
The sale or purchase of bitcoin in a stationary exchange office allows you to negotiate and set an individual exchange rate. Transactions can be made for cash without the obligation to report to GIF up to the amount of PLN 15,000. EUR.
How do I buy and sell?
A stationary cryptocurrency exchange office allows you to carry out transactions after downloading and installing the Kanga Wallet application from the AppStore or Google Play. The next step is to create a Kanga Exchange account and we can start choosing an investment and negotiating the rate.
The transaction is very intuitive, similar to BLIK payments. In the "EXCHANGE CODE" tab, click the button with the description "GENERATE CODE" and give it to the exchange office employee, then confirm the transaction on the phone screen. After a while, information about the changed state of our account appears in the application.
How to open a stationary cryptocurrency exchange?
Do you run your own stationary exchange office? Do you want to extend your offer with a cryptocurrency exchange option? There is no easier way – contact us and we will guide you through the entire process!
The key issues regarding the implementation of the business are:
hardware – you only need a device with Internet access; you will get the software from us for free,
accounting – you will find all the information your accountant needs in the system we provide,
contract – we operate legally, our business model has been approved by the Polish Financial Supervision Authority,
knowledge and skills – the exchange system has been designed by us to be easy and intuitive. However, we offer training for you and your employees,
technical support – do you answer customer questions? Transaction security? You will find all this with us!,
prices – we strive to provide the best possible cryptocurrency rates.
In other words, we want mutual benefit.
What do you earn? From commissions on buying and selling cryptocurrencies. The commission levels are up to you and you are free to control them. How do we earn? We charge a commission of 1% for each transaction made in your exchange office. We offer our trusted partners a cheap loan, thanks to which they do not have to freeze any resources to handle transactions. You do not have a stationary exchange office, but would you like to have your own cryptocurrency exchange office? You've come to the right place. Fill out the form and someone from our team will contact you shortly.
If you have any questions, please call +48 58 573 36 33 or write to [email protected]